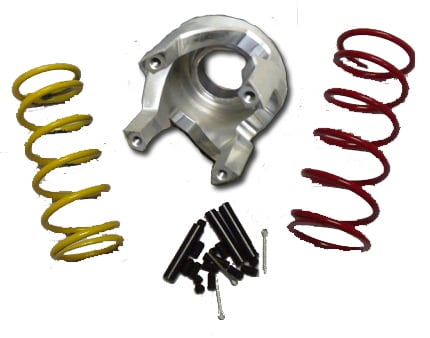 XP CLUTCH KIT - FOR TRA PRIMARY / QRS SECONDARY

Available for: 500ss, 600SDI, 600etec, 800R, 800etec engines.

Cudney Racing Clutch Kits include, a set of adjustable weight pins, a new primary spring, a new secondary spring, a new teflon coated qrs helix, instruction kit and decal.

Regular Price: $399.95

Our Price: $359.95
PB80 - PRIMARY CLUTCH
Available for the Rev, RevXP, 600, 800 and 1200 series engines!
The new PB80 Primary Clutch is lighter than the TRA Primary and allows the engine to spool faster with improved clutch cooling cooling.

Regular Price: $719.95

Our Price: $679.95
PB80 Primary CLUTCH - Holding TOOL

PB80 Clutch Holding Tool. This is Needed to work on the PB80 Clutch

Reg Price: $42.95

Our Price: $34.95